Drugs & Medical Devices
Elmiron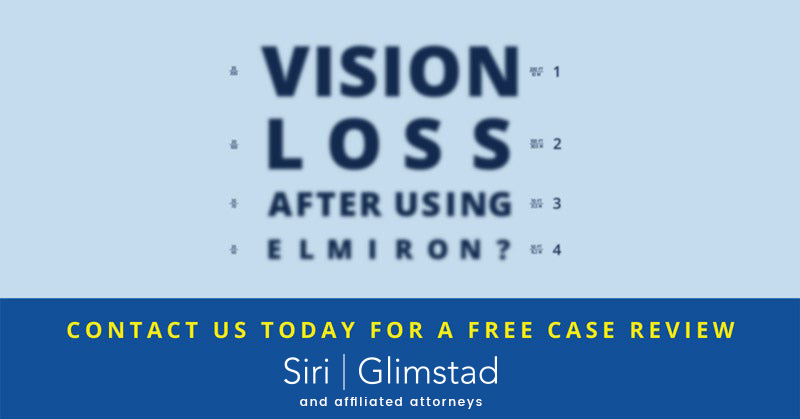 Overview
Siri & Glimstad and affiliated attorneys are evaluating claims from individuals who took Elmiron and were diagnosed with maculopathy.
About the Elmiron Eye Disease Lawsuit
Elmiron is a drug that has been prescribed to millions of patients since 1996 for interstitial cystitis (IC), otherwise known as painful bladder syndrome. Starting in 2015, researchers began to discover a potential link between the drug and a serious eye disease called maculopathy. However, even as the evidence has piled up, Elmiron's manufacturer, Janssen Pharmaceutical, has failed to warn the public about these risks.
IC patients are typically prescribed 300 milligram daily doses of the drug. In more serious cases, doctors have been known to prescribe 800 or even 1500 milligrams. Millions of people are taking a drug that may one day rob them of their vision, and an untold number may have already suffered serious health consequences.
A Hidden Danger
The potential risks associated with Elmiron were unknown until 2015, when doctors at Atlanta's Emory Eye Center encountered an eye condition they hadn't seen before in six women. This form of maculopathy didn't seem to have a cause. Further investigation revealed that all six women had been taking Elmiron for years.
Studies released in 2018 and 2019 further support the link between Elmiron and maculopathy. It is as yet unknown how Elmiron causes this condition.
Despite mounting evidence, eye disease is still not listed as a possible side effect by the manufacturer. There's no telling how many people have already suffered a serious eye injury due to their use of Elmiron, and hundreds of thousands of people are at risk.
Fight for Compensation
If you or a loved one took Elmiron and were diagnosed with maculopathy, you could be owed compensation for medical costs, pain and suffering, lost wages, and other damages. We want to help you fight to get it.
FAQ
Should I Stop Taking Elmiron?
Anyone taking this drug should talk to a healthcare professional about their options.
Who Is Eligible for an Elmiron Lawsuit?
If you took Elmiron and were diagnosed with maculopathy, you should consider taking legal action against the drug's manufacturer. If you meet these criteria, you may have a case:
Over the age of 18
Diagnosed with maculopathy after taking Elmiron
Filing on behalf of yourself, a minor, or another family member
What Can I Recover from an Elmiron Lawsuit?
Every case is unique, but people who successfully file drug or medical device lawsuits can recover compensation for some or all of the following damages:
Past and future medical bills (including medication, hospital stays, and in-home care)
Pain and suffering
Lost wages
Loss of earning capacity
Contact Us
Contact us today at 772-783-8436, jmalainy@sirillp.com or fill out the form below for a free case consultation.

A member of our firm or our partner firm

will be in touch shortly.
Siri & Glimstad LLP, 200 Park Avenue, 17th Floor, New York, NY 10166, 855-944-JOIN.  The person/people depicted in this advertisement are fictionalized and not real victims or lawyers.  Siri & Glimstad's attorneys are licensed to practice only in certain jurisdictions and our attorneys practice law only in those jurisdictions.  All class actions and/or mass torts are litigated by either Siri & Glimstad LLP attorneys or their affiliated firms.  While Siri & Glimstad LLP maintains joint responsibility, cases of this type may be referred to other attorneys for principal responsibility.  Prior results do not guarantee a similar outcome.  No representation is made that the quality of the legal services to be performed is greater than the quality of legal services performed by other lawyers.  Do NOT stop taking a prescribed medication without first consulting with your doctor.  Discontinuing a prescribed medication without your doctor's advice can result in injury or death.
Attorney Advertising. The information on this website is for general informational and advertising purposes. No attorney-client relationship between reader and Siri & Glimstad is created by submitting the form above. Upon submitting the form, you agree that a representative from Siri & Glimstad may contact you. Copyright © 2022 Siri and Glimstad LLP (Main Office: 200 Park Avenue, Seventeenth Floor, New York, NY 10166: Phone: 212-532-1091) – All Rights Reserved