Brian Rabkin
Associate Attorney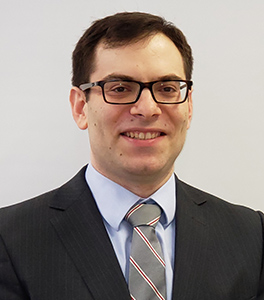 brabkin@sirillp.com
(212) 532-1091
200 Park Avenue
Seventeenth Floor
New York, NY 10166

Admitted in NY
Brian Rabkin is an Associate Attorney at Siri & Glimstad LLP. He has a wide-reaching and diverse background in civil litigation, including consumer class action litigation. His passion as a litigator is rooted in his mission to prevent manufacturers and retailers from falsely advertising products. Mr. Rabkin had negotiated settlements in numerous food labeling cases, compelling manufacturers to change product labeling and compensate consumers. Mr. Rabkin's interest in science and technology, and his specialization in those fields, have resulted in his recovering millions of dollars in settlements in cases against car and food manufacturers. In addition to driving consumer fraud cases to successful conclusions, Mr. Rabkin has extensive experience conducting discovery and motion practice in support of complex employment and ADA discrimination cases.
Representative Matters:
Compelled Applebee's to drop its hidden requirement that all customers pay at least a 20% tip (Ghee v. Apple-Metro, Inc., 2018 U.S. Dist. LEXIS 13112, 2018 WL 575326);
Compelled the City of New York to retrofit 15 intersections to make them accessible to blind people (West v. The City Of New York, No. 1:16-cv-02299-CM-BCM (S.D.N.Y.));
Compelled food manufacturer to reduce the size of its container so that consumers would know how much food was enclosed inside. (Cairo et al v. Quest Nutrition, LLC, No. 8:17cv137 (C.D. Cal.));
Represented car owners against manufacturer who produced defective and dangerous airbags (In Re: Takata Airbag Products Liability Litigation, Master Case No. 1:15-MD-02599-FAM);
Represented car owners in a case against General Motors regarding its defective air conditioners and the company's failure to notify consumers of the issue and rectify it (Won v. General Motors Company, No. 1:17-cv-04819-AMD-JO);
In a labor law action, obtained court authorization for notice to be sent to plaintiffs with binding arbitration contracts and subsequently defeated motion to disqualify the firm from representing those plaintiffs in arbitration. (Garcia v. Chipotle Mexican Grill, Inc., 2019 U.S. Dist. LEXIS 14140, 2019 WL 358503);
Successfully responded to accusation that client committed breach of contract, causing plaintiff to drop its lawsuit against the client (Joseph V. Dr. Martens Airwair USA LLC, 2:16-cv-06335-LDD (E.D. Pa.)).
Prior to joining Siri & Glimstad, Mr. Rabkin was a Litigation Associate at Lee Litigation, PLLC. He is also the former Associate Editor at the Machine Intelligence Research Institute, where he developed his interests in computer programming and robotics.
Mr. Rabkin graduated from the University of California, Los Angeles with a Bachelor of Arts in History. He obtained his Juris Doctorate from the Columbia University School of Law.